SPONSORED PROGRAMMES


Amruta

T.V. serial on chhayawadi Hindi Poets.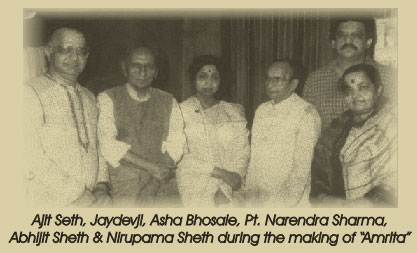 Inspired by Tagore and their mentor, the late music maestro Pankaj Mullick the Sheths constantly endeavored to take Indian poetry to the mass public through music on LPs, pre-recorded cassettes, radio, TV, Stage Programme s and musical Audio-Visual presentation.
The Sheths presented "Kalidas", " Ritu- Samhar" in audiovisual form at an international seminar in Colombo in 1984. Buoyed by its success and with the advent of sponsored programmes on the national network of Doordarshan, they turned their attention to the mobile visual medium of video. The tremendous success of their slide and sound A/V production convinced the Sheths that the synchronization of poetry and music with attractive visuals create a greater impact then it would by mere recitation. And so the idea to produce a sponsored programme blending our rich heritage of poetry of Hindi Chhayawadi poets like Nirala, Sumitranandan Pant, Mahadevi Varma, Jaishankar Prasad, Harivanshrai Bachchan, Maithilisharan Gupt and other well Known Hindi and Urdu poets with music and visuals emerged in their mind. The music maestro Jaidev was tremendously excited by this concept and readily responded to the invitation of Sheths to score the music. Thus, 'Amrita', the first ever music based TV serial was born.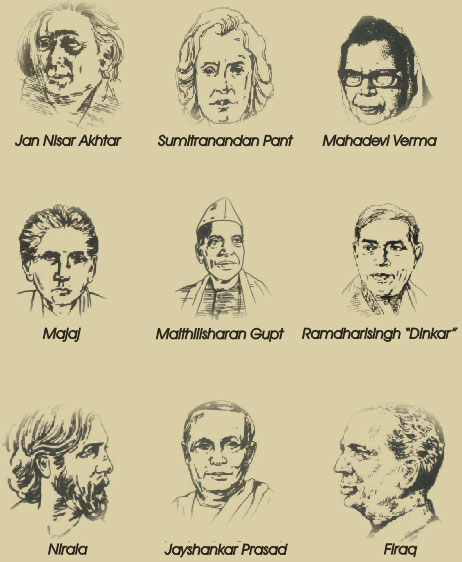 As the serial was primarily aimed at appealing to the new generation, the Sheths thought it would be more meaningful if the responsibilities of directing this tele project rested on a young shoulder. And so their son Abhijit, who has been trained abroad in AV and video production techniques, was roped in. Abhijit visually structured this serial in a form that would entertain and generate interest in the viewers to know more about Indian poetry and music, The latest post-production techniques in video art, electronic effects, modern colour graphics and lyrical camera work were used by him to make this serial a visual feast. The entire script was conceived by Pt. Narendra Sharma. Jaya Bachchan, Asha Bhosle. Deepti Naval anchored this serial on television. The songs were picturised on popular TV stars at beautiful outdoor locales. In some songs, interesting situations were created and dance elements were introduced. Where there were those narratives, a storyline was created. Where lyrics were highly intellectual-full of abstract mysticism the visuals were deliberately kept simple and understandable.

The Sheths felt that TV serial must involve the viewers and engage their attention before socially important message-regarding our heritage, culture-can be transmitted. Thus, all though, the effort was to create arresting visuals in a contemporary style that would appeal to an audience much influenced by song and dance programmes like "Chhayageet". "Amrita" is the first ever MTV (Music television) serial of it kind.